April 14, 2017
Check out how adaptive learning and problem-based learning transformed a large, lecture class at UM. What Happened When I Stopped Lecturing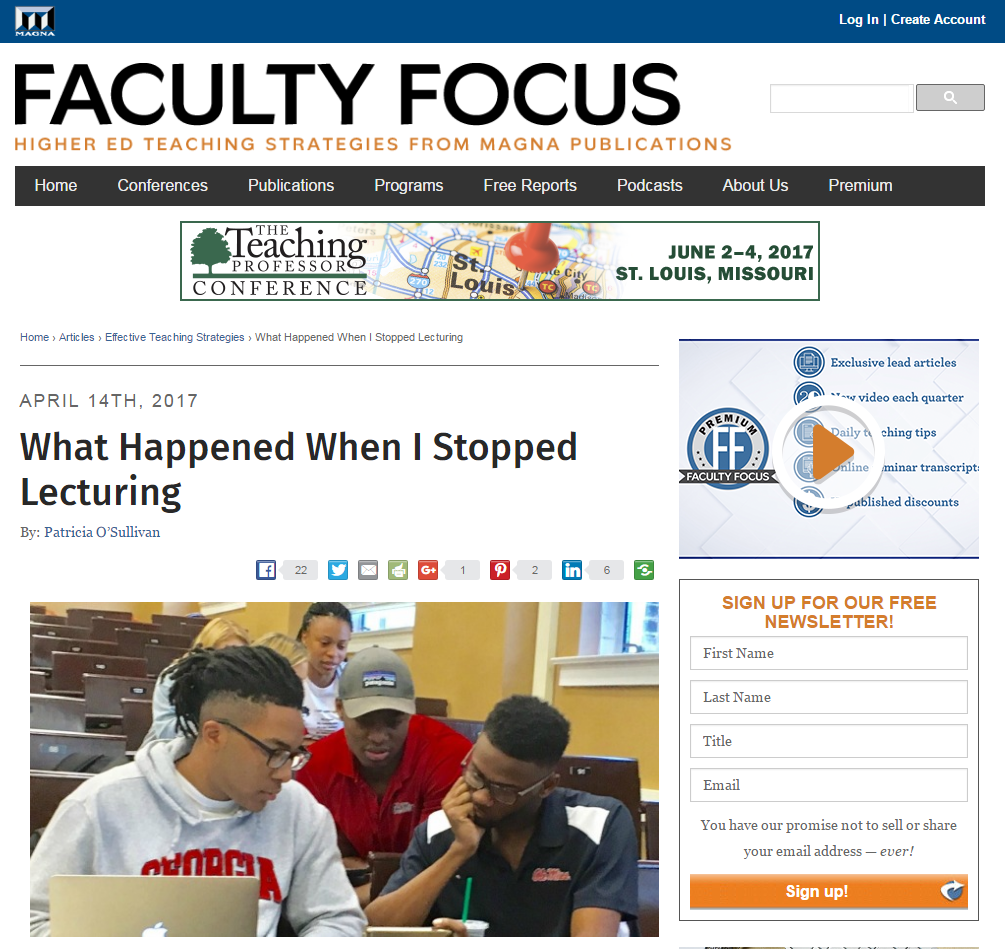 March 29-31, 2017 APLU Site Visit
March 30, 2017
The PLATO Program is featured on the UM website
March 22, 2017
Center for Excellence in Teaching and Learning Faculty Development Luncheon
January 24, 2017 WCET Frontiers
The UM PLATO Program was highlighted in WCET's online journal. Check it out by clicking the link below.
Helping Students with Adaptive Learning: APLU and the University of Mississippi
January 17, 2017  Faculty implementing adaptive learning meet for lunch in Ventress Hall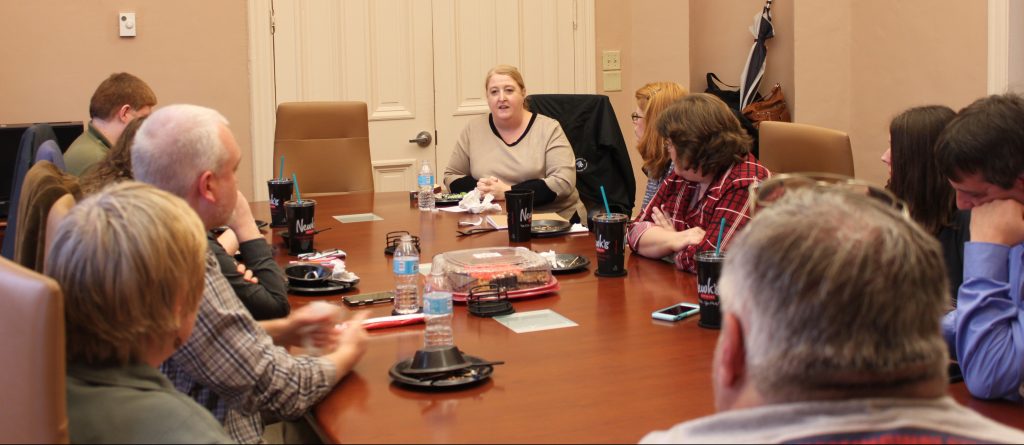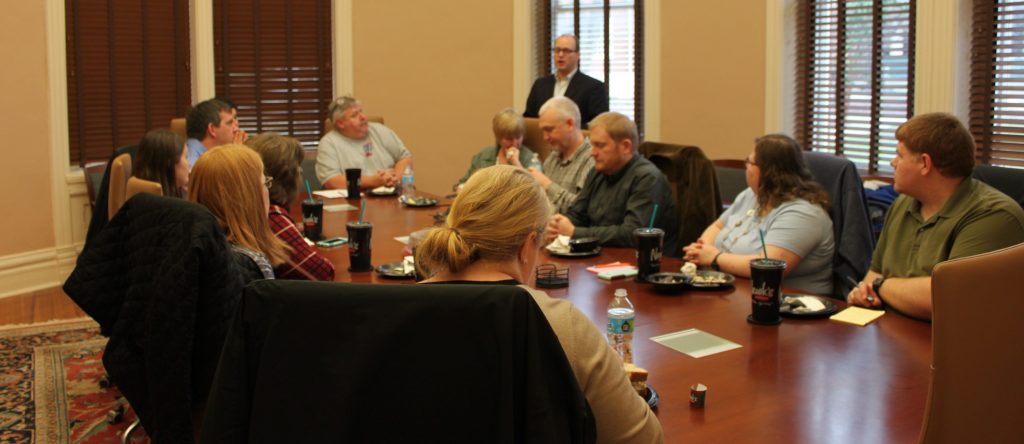 January 12-13, 2017 English Composition Courseware Collaboration in Washington, D.C.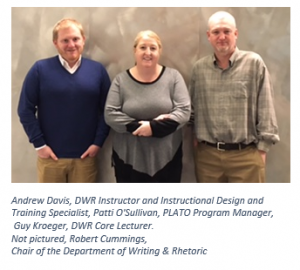 Members of the Department of Writing and Rhetoric faculty traveled to Washington, D.C. to meet with faculty from Georgia State University, Montclair University, and the University of Georgia to review their year-long participation in an APLU grant to develop and pilot adaptive courseware for English Composition.
January 20, 2017: Learn how to implement active learning in a large classroom! Register for the workshop.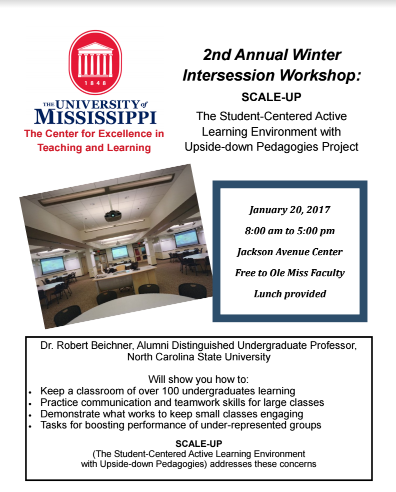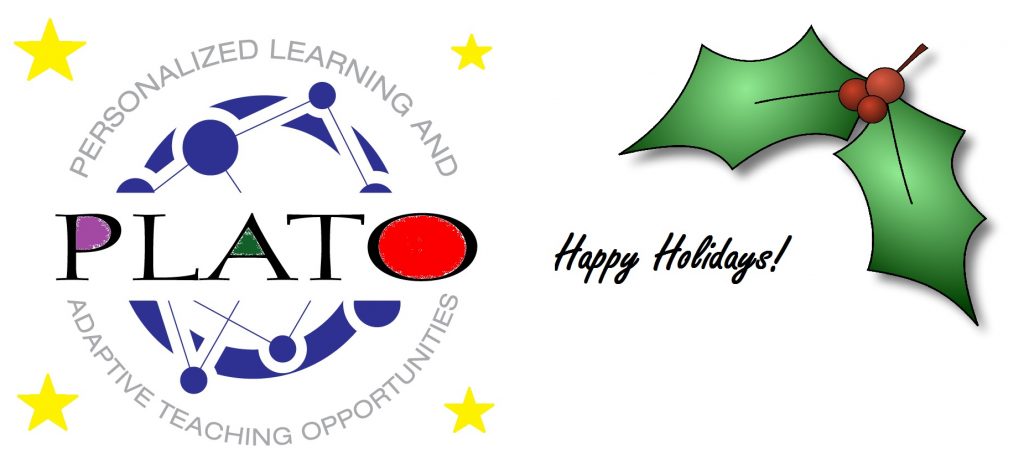 The PLATO Program Office will be closed December 21 – January 3.
Adapting to Adaptive Learning: transforming a lecture class into a personalized learning experience
December 7, 2016, 2:00 PM CST / 3:00 PM EST
Presented By: Patricia O'Sullivan, Manager, Personalized Learning & Adaptive Teaching Opportunities (PLATO) Program, University of Mississippi
Beyond the Horizon – Digital Literacy Forum
December 15th @ 10am -11am Central Time
Presented by: New Media Consortium
Free to All
This event will explore a pressing challenge for higher education institutions across the world: advancing digital literacy among students and faculty. As technology use is proliferating and becoming more ubiquitous in people's daily lives, colleges and universities have become more adept at integrating it into every facet of campus life to enhance course design, course materials, and interactions between learners and educators. However, simply knowing how to use the tools does not solve the challenge. Education professionals must be able to tie the use of digital tools to progressive pedagogies and deeper learning outcomes to equip students with 21st century skills that help them flourish in college life and in their careers. Identifying and implementing effective frameworks is paramount, and a number of organizations and institutions are leading the way. Hear from an international panel of experts on their perspectives on digital literacy, the biggest challenges associated with advancing it, and recommendations for developing successful digital literacy initiatives.